Design-Build
Design-build simplifies the construction process by creating a single point of contact for a project through its entire lifecycle.
Design-Build is a construction delivery method that provides owners with a single point of contact for both the design and construction phases of a project. When you use Buildrite Construction for your Design-Build project we become your single point of contact that takes on the responsibility and contractual risk for every aspect of a build — from site survey, architecture, engineering, estimating, subcontracting, construction management, and post-construction delivery. The efficiencies gained provide a positive ROI for owners and gives them back the time they need to focus on their business!
Design-Build Project Delivery
Owner manages only one contract with a single point of responsibility; designer and contractor are on the same team, providing unified communication and solutions.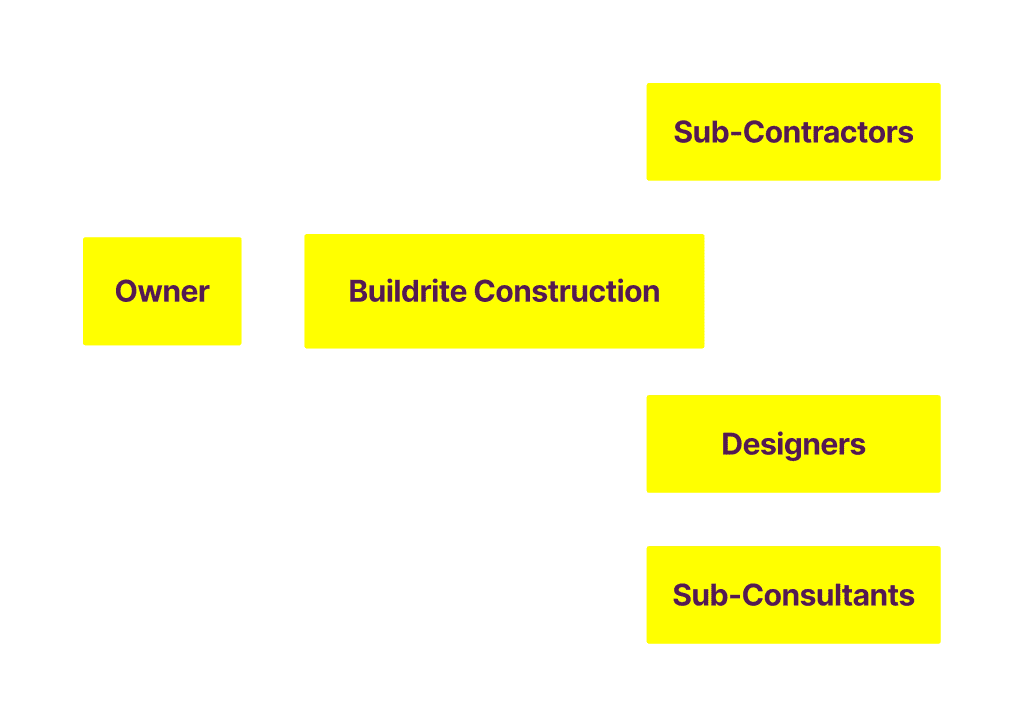 Traditional Project Delivery
Owner must manage two separate contracts; owner becomes middleman, managing communication and disputes between the designer and the contractor. Designer and contractor can easily blame one another for cost overruns and other problems.
In other construction methods, owners contract with different entities for architectural design and construction. Since Design-Build brings together all elements of a project, architects work in coordination with other members of the project team instead of apart from. In other methods, architectural design is completed separately, often slowing down the project timeline, creating gaps in communication, and resulting in unforeseen costs to the owner.
If you are part of a corporation or franchise that provides in-house design services, we can still use a modified approach in where we engage our architect teams to convert the in-house design plans into a full drawing set with all applicable building code information and engineering as required to create a full set of Construction Drawings.
Design-Build offers unique benefits and advantages to the owner that other construction methods cannot deliver.
Time = Money
Design-Build as a process consistently provides owners with more of the most valuable asset of all: Time. The delivery process for a Design-Build project offers the owner a faster project delivery by streamlining the project team, flow, and communication. Let Buildrite Construction get you open faster – so you can turn your investment into a profit center and maximize your opportunity costs.
Lessen Stress
The construction process can naturally be a stressful time for an owner – there are several things happening all at once and it can be overwhelming to be focused on being the quarterback that is keeping the whole team in check. Hire Buildrite Construction to lead the team for you and rest easy knowing you will have more time to focus on running your business. Eliminate your headaches by allowing us to pave the way for a smooth collaboration for the entirety of your project.
Reduce Costs
Design-Build projects are delivered faster, more cost-efficiently and with fewer change orders that lead to unforeseen costs and schedule delays. In other words, Design-Build helps jobs get done on-time and on-budget. Building smart with Design-Build pays dividends, reducing both real (accounting) costs and opportunity costs. Contact Buildrite Construction today and let us help you on your next project!